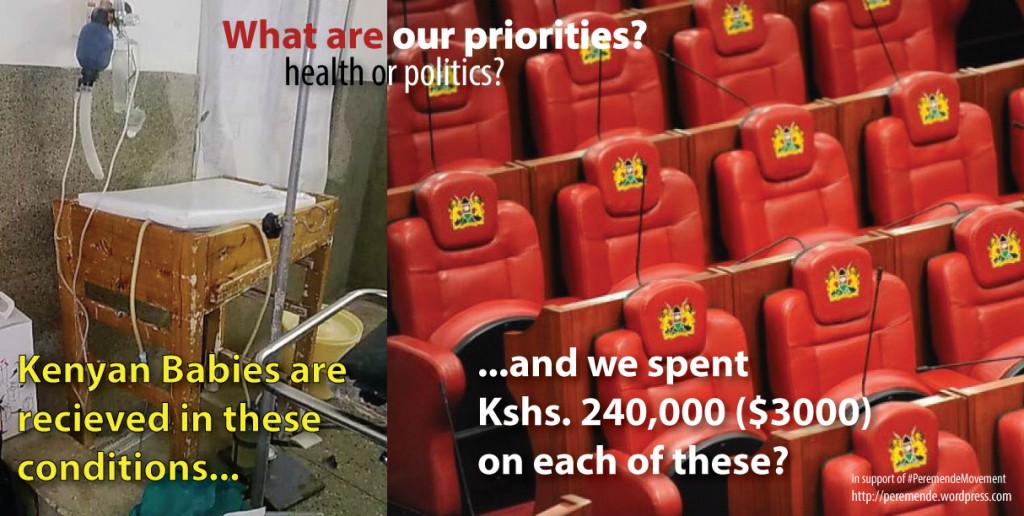 About 2 weeks ago, I met a doctor, one of those that are on strike in Kenya, over dinner and I asked him why they are on strike. You see, I knew they were on strike and I had seen some of the footage in the news, but I really didn't support them because I didnt know what they were on about. What I knew is that in general, doctors are a privileged lot and them striking at the same time as teachers – well, my priority was going to be with the teachers. I just couldn't understand why they wanted to be paid more.
Everytime I tried to listen, I was referred to a commission report dubbed the "Mutava Musyimi report" on the state of medical services in Kenya. Made absolutely no sense to me. So I asked Dr. Muriithi to explain it to me like i'm three years old. And he did.
He explained that the few doctors in this land work extremely long hours – routinely even 48 hours, with little to no equipment and facilities. He explained, that especially outside the urban centres, too many people die needlessly because the doctors are forced to work very hard and very long with very little support – and on top of that, they are paid little or nothing – because they are registrars.
I said, "Oh, registrars! Well, most companies don't pay people to learn on the job…" Dr. Muriithi educated me that a Doctor Registrar is usually persuing his Master's degree and is already a fully qualified doctor. They can perform surgeries, they deliver babies and so on. They are not student doctors but real actual doctors.
My response to him was to tell him that these doctors are not talking to Kenyans – that they are talking too much to politicians (in political gobbledygook) that they are not helping us the public understand. I basically said to him that my view was that they need to get my mum and grandma pissed off about their plight.
So a couple of questions occured to me:
Do we pay less in government hospitals for surgeries to be done on us – because they are performed by interns? No.
Do we get less treatment from these doctors? No.
What does it say about our country that MPs who work 15 hours a week (not always – and i am an avid Bunge TV watcher) get hundred of thousands of shillings while doctors who keep us alive and teachers who educate our kids are living on scraps? Are we saying that politics is more valuable to us as a society than healthcare and education?
So the Doctors have started the Peremende movement – with which they are telling us in simple terms what the problem is – and now that I understand, I support the peremende movement. Pay our Damn Doctors!
EDIT: I have edited the word "intern" and changed it to Registrar – after advice from Dr. Muriithi and Dr. Ngure (see comments) that interns are under graduates, Registrars are the graduate doctors I mean to refer to.