The end of 2013 has come and this is among my very last blogposts of the year 2013. I find that I must end it with an endorsement for Google – specifically Google Apps for Business and an unfortunate demerit for Microsoft's cloud based outlook.com and Office365.
2013 was the year that we at The Goode Group gave a fair shake to Microsoft's cloud based services. What we do at Goode is that we help social organisations (NGOs, Saccos, Governments) to become great brands. One of the ways we have done this is through the Goode rebranding process, which involves a complete makeover for the organisation – including the organisation's processes, outlook of the staff and the leadership, how they handle clients, how they market and communicate with each other and with external people, advertising, etc.
One such organisation that we have worked with this year is the Imarika Sacco, which is the largest Sacco at the coast province and which has now started its march across Kenya and beyond. For you to understand how we work with these organisations, check out this documentary prepared by one of the Goode companies, Thellesi Media

Anyway, back to Google vs Microsoft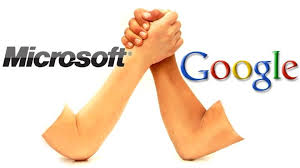 With a few clients that we tried to move from on site email servers (you know like the outdated Exchange Servers) to cloud based services like Google Apps for business and Outlook for your domain. Many of our clients who have to make the move have been suspicious of the cloud technology and therefore have found it hard to invest in it.
For this reason we thought Microsoft was a clear winner because they have outlook.com for your domain, which offers 50 accounts free and which then allow for the users to enjoy email on the cloud as well as their nifty SkyDrive (which is comparable to Google Drive). By using it for a while, they would grow less suspicious and it would be easier to move them to such commercial services as Open365 as they grow. Good thinking, yeah? Well not so much, no.
Our experience with Microsoft:
All of the clients that we wanted to get onto the Microsoft Cloud have more than 50 staff members (but less than 100) and we were happy to still move them because Microsoft said that we could ask for a few more accounts through their support. We figured if we explained our thinking to them, we would surely get the few extra accounts.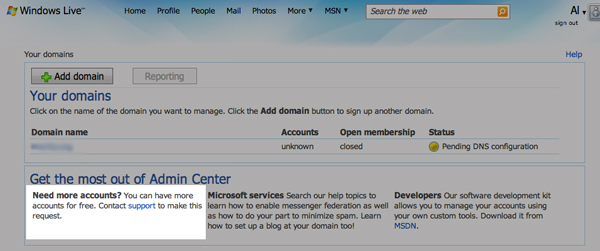 Outlook.com says you can ask for more accounts by talking to support.
No one to ask!
When we tried to go to outlook.com custom domain support we found lots of FAQs and links and so on and not a single mention of outlook.com! Not one. And there was no one you can talk to – no ticket you could raise, no customer care you could find nothing. Only place that we found was the forum which proved to be useless – could not be searched and no one seemed to have asked the question.
Despairing of that avenue, I contacted a senior leader at Microsoft Kenya that I know, who referred me to his colleagues who ostensibly deal with it. This is where I was stumped. These managers were really hard to find (even having their mobile numbers), knew nothing of Microsoft's cloud services except for some rudimentary knowledge of Office365 and worse yet, had no idea who I could ask. They promised to ask around the giant company to figure out who could help me. Weeks later (I had to keep calling them, they didnt call back) I found that they could not find anyone to talk to!
Here, Alarm bells came on.
I went to the US on business and decided I would call Microsoft in Redmond, Seattle (thats where Microsoft HQ is) and several calls and many minutes of holding later, I had no answers. There was outlook for your domain but no one to manage it? No customer support for its users? Unbelievable, right?
This saga started in August 2013 and as we close the year, I gave up a month ago. If that isn't a fair trial, I don't know what is.
Turn to Google
We quickly moved one of the later clients (who we started working with in October 2013) to Google Apps, convinced them to pay for it and all and got them signed up. It really is a pity, that we found that neither google.org nor Google for Nonprofits was available in most countries of Africa. In fact, dealing with various Google executives, I found that Google does not really pay much attention to the African SME really and the business end considers them too small.
But, signing up for Google for Business was fast and easy and required very little technical expertise – even I could do it. And I do have a nagging worry about the Google Policy but not so much that it stops me from using it or recommending it.
Once we had signed up, we were pleasantly surprised to be called by a Google Customer Service agent in Switzerland who wanted to see if we have any queries and so on. We talked about what we needed for other clients and we got answers – fast. Even where they could not help, we knew quickly.
We have since moved our other clients to Google Apps and for others, we are resorting to paying for them a few accounts for the leaders to test the service before moving all of them.
Ultimately, I have to say, that in my experience, as a user of both Outlook for your domain and Google Apps for your domain, I much prefer Google Apps. Its simpler to use, to understand and to pay for. And Google provide support.
Best wishes to both companies in the new year.