This article was first published in the Standard.
On April 25th, I wrote here about two old men who were building me a gazebo to pass the time as they could not sit still during the lockdown. Unfortunately, one of them, my 86-year-old grandfather passed away suddenly last Friday. Organising his send-off turned out to be a singular experience for his family because of the changes that have to be done.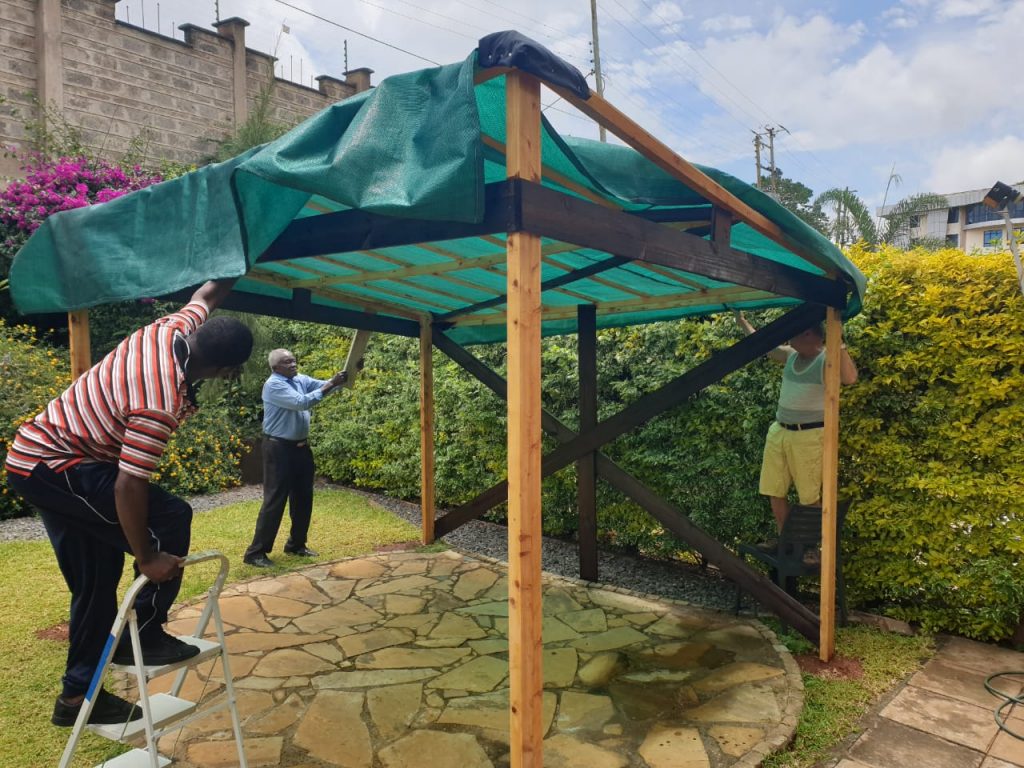 My grandfather, Erastus Kagwe was a Nyumba Kumi elder, a community land adjudicator, a church elder and was very popular in his community, known for his selflessness and kindness.
Everyone wanted to be there to honour his generosity over the years as he had touched so many lives.
Under ordinary circumstances, the organisation of his funeral would have been elaborate. There would have been a church ceremony at the church where he was one of the leaders. That service would have been attended by people from all over the country. Family members would also have travelled home from abroad to come and bid him goodbye.
The programme of the church service have would been replete with long speeches; tributes from his friends, his family, his church mates and the other members of the Kenya Anglican Men's Association of which he was a leading member. There would be musical representations from children of different ages and choirs.
"Deaths hurt those who are left behind. And I was hurt too. Devastated to be precise. I wanted to cry, but my tears would not come. It made me feel awkward."

ALSO READ Oliver Kagwe's blog, on our grandfather.
The service would have been followed by a procession from the church to his nearby home where there would be a graveside programme with more speeches, prayers and remonstrations of grief.
A crowd would have stood shoulder to shoulder by the graveside and each person would have gotten a chance to throw in at least a handful of soil and place flowers on the grave as they said their goodbyes.
There would have been elaborate photo sessions organised by the graveside, with different groups being called to stand side by side; his children, grandchildren and great-grandchildren, followed by his cousins, siblings, in-laws, KAMA comrades, schoolmates, old workmates and friends of various circles.
Organising a funeral of this calibre would have involved a large committee and several sub-committees and who would meet every day
There would have been much food cooked on that day and tea would flow by the gallon. Women in the community would have spent the night in the home preparing the food, tea and porridge to feed the multitude of people who would have remained in the compound to commune with the family and also to catch up with each other as many would not have seen each other for months or even years.
The funeral would have been an opportunity for cousins to be introduced to relatives they had never met and for old friends to reminisce about their times with the dearly departed.
It would have been well past 7pm when the last of the guests would have left, leaving a large group of friends and neighbours to help clean up and take care of the old man's family.
Organising a funeral of this calibre would have involved a large committee and several sub-committees and who would meet every day for several days.His relatives in Nairobi would also be having their own meetings every day at the Kenyatta International Conference Centre or in one of those restaurants that offer spaces for people to meet, fundraise and plan for funerals. The committee would pore over hefty budgets which would be met by the contributions of all these family members.
Alas, none of that happened in the case of Mr Kagwe.
Thanks to Covid-19, funerals are now conducted only by close family members and they must happen within 72 hours!
However, in our case, the local government made minor concessions as my grandfather's death was not as a result of Covid-19. They allowed us an extra day for planning and a few more than the recommended 15 people to attend the funeral.They stayed close to supervise and be assured that those gathered would maintain social distancing, wear masks for the entire period and that there would be handwashing stations.
The family had to make a list of the people who would be allowed to attend the funeral and this was no small feat. The mzee's immediate family (children, grandchildren and great-grandchildren) has more than 30 members!In addition, we had to pick representatives of members of his extended family, the church, KAMA and close friends.
To enable many people to 'attend' the funeral, we tapped into technology. We arranged for coverage on Zoom using two mobile phones and a laptop, which would then be broadcast live on YouTube to enable friends and family to take part in the funeral in the isolation of their homes.
After the funeral, my 84-year-old grandmother has had to learn how to use Whatsapp video so as to be in touch with relatives and friends who wanted to comfort her.
One thing is for sure, funerals may never be the same again. I suspect that small, cheap funerals will become the order of the day as our morbid fascination with dead bodies would reduce.
People will stop traveling to other towns for funerals and instead technology will an acceptable way to 'attend' funerals.