Today, it was suggested that I am loosing my business touch – with regards to Kenya's development – and that I was getting perhaps a little too socialist in my ideas of what it would take to develop ICTs in the country. Certainly, Kenya has come a long way since 2006, when I really started working in the ICT4D space in Kenya. For one, I am blogging this from the DEMO AFRICA event at the Kenyatta international Conference Centre in Nairobi from my laptop. I am connected to my Orange 3G internet dongle that is running speeds of about 33MBPS although there is a 10MB dedicated link from Safaricom that is providing enough bandwidth for this event to be streamed live over the internet. I paid my rent this month via MPESA, I can check my bank balance via my mobile phone and as I am taking my wife to a play this afternoon, I could buy the tickets online.
At Demo Africa, some of the startups that pitched for investment (from Kenya) include Kytabu, developed by Tonee Ndungu and Joyce Mbaya – who are bringing the idea of digital text books for primary and secondary schools to be a reality in Africa. Other applications that I saw included Mtracker that empowers motorists never to loose their cars, Crowdpesa and Mpeya a mobile enabled business transactions and accounting app.

For me, Demo Africa represented an important milestone in Kenya's development of ICT. It said to me, "we have grown up." The startups that were pitching for partnerships and for investment are actually startups that are already very sound businesses in their own right and that need to scale. Which says that we have moved away from when people like myself were starting out where we were so enamoured with technology that we failed to see business value out of it – and I realise now that it was a process.
The process for any community for technology uptake as I see it is as follows: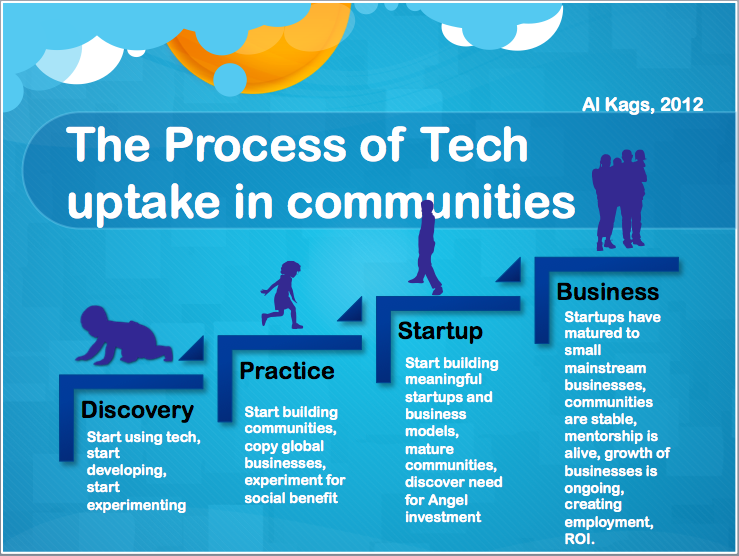 Where I see us as a country being is on the verge of moving to the fourth phase – with companies like Verviant, Symbiotic and Intrepid being some of the movers into that space within just a short time.
But.
What made my friends suggest that I may be getting too "Socialist" in my leanings (and in the way they said it, it was a negative development on my part), was that I pointed out that the current innovation community is one that lives in Nairobi – and does not move far out of there. I suggested to Paul Kukubo and Andrew Lewela of the Kenya ICT Board as well as Mbugua Njihia that while it is true that Kenya has come a long way; and while we must push hard for the entrepreneurs that are ready to forge out of the pack and really succeed – because that will cement our position, we must slowly now begin to bring other entrepreneurs who never come to the capital onto the mix.
Maybe I convinced them, maybe I didnt. But in this respect, I want to achieve this in 2013, to catalyse the rise of new ICT communities – of developers and innovators in other parts of the country, from Malindi and Lamu to Kitui and Nyandarua to Kitale, Webuye and Kakamega. I want to see Mobile Monday events being held in those places, and skunkworks set up in their counties. I want to see innovation hubs set up in Kisumu, Nakuru, Kakamega, Kitale, Machakos, Kitui, Voi, Malindi, Mombasa… and I want to see Nairobian Skunks and people from iHub, Nailab, iLab etc, begin to have events and collaborations in those places.
The temptation is to keep this within universities. My view however is to build communities outside the universities that are close to the universities so that everyone who has an interest in ICT can participate.
Right now, I am building a coalition of the willing, people who see the opportunity as I do so that we can start widening the innovation community. Lets start talking about taking Tech 2 Shags®