Calling all poets: etc…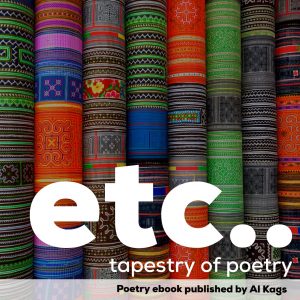 This is a call out for entries into etc…, the first of a return to the Quarterly Series of ebooks that I published back more than a decade ago.
etc.. is going to be a collection of poems about the lessons and experiences of life, the scars and tattoos that adorn it, the broken dreams and new aspirations, the new people who entered your life and those who left….
To participate, send your poems to poetry@alkags.me by April 20th. The book will be out on May 15th.
The rules of the book are as they used to be: that you can download them for free, share them, enjoy them, republish the poetry in there – literally anything you want to do with them: just be sure to acknowledge the author and the ebook. The poems are freely shared by people who love poetry, for people who love poetry around the world. All rights to the poetry remain with the author, who, by contributing, licenses the right to distribute the poetry freely through the ebook.
---
Poetry is a window to the soul, a transference in language of our strengths, weaknesses, transient -ness. In 2006, I started finding ways to be published to share my work freely alongside others, to be heard in a crowd. In those days, as today, finding a publisher willing to take on works was hard – they have the subjective task of trying to figure out what will sell.
I had no such considerations. I just wanted my words out there. I just wanted to share a little of myself with the world, uninhibited. I was not alone in this quest. So I decided to become a different kind of publisher. I simply made available a series of ebooks that were shared freely (in those days by email), with poems written by me and others like me.
The Quarterly Colour Series was more successful than I anticipated it ever could be. We published 5 ebooks, Grey Spots, Blue Smudges, Red Streaks, Green Piece and Brown Steps.