I often enjoy listening to the BBC World Service in traffic as a means of engaging my mind. I started listening to the World Service while I was still living in that servant's quarter room I told you about earlier. One of my favorite people to listen to was Alistair Cooke, who I take this opportunity to remember – he died a little more than a decade ago. I recommend if you are a person who might be influenced by history and how it is thought through – listen to his archived 'Letter from America' show on BBC online or on iTunes. (I swear, they have not paid me to say this).
The reason I bring up BBC, is that they currently have an interesting series on going on identity – what is your identity? How do you define yourself? Are you African because you are black or could a woman of Indian heritage also be African? Who and what defines your identity? Who are you?
One of the biggest influential ideas that came to me was attributed to David Packard, one of the Founders of HP – Hewlett Packard. I remember that the idea went something like, "if you know what you dream of being, start acting like you will when you realise your dream" – essentially, if you want to be a major CEO, then start acting like one now. This idea sent me talking to many business and social leaders of our time and my questions to them have always been:
What time do you wake up in the morning and what are the first 5 things you do.
What time do you go to bed at night and what are the top 3 things that you do
Have you ever failed? Tell me about your failures.
How Chris Kirubi, Manu Chandaria, Caroline Mutoko, Nameless, Jeff Koinange, Bill Gates, Warren Buffet, Lupita Nyong'o, Wanuri Kahiu, Uhuru Kenyatta etc are  successful is common knowledge. It is usually very well covered. What usually isn't is how they built their character – what better to build character than failure?
These people and many others taught me the value of waking up early before everyone and having time to research, plan, organise your day before you start. They taught me the value of silent reflection and planning before you do anything. They taught me the value of reading every day. They taught me that leaders – in whatever field – learn aggressively and fail positively, every time. They taught me that successful people see the bright side of every situation possible.
In those days on the SQ, I also had the great privilege of meeting two people of whom I want to pay tribute for having always lived the person they are today.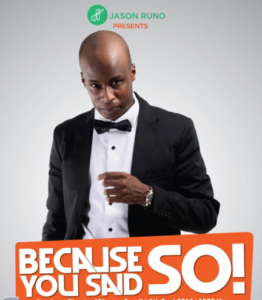 Jason N Runo is the leader of a "ragtag" group of extremely funny people who are pioneering the improv comedy space in Kenya today. Together with June Gachui, Patricia Kihoro (oh see her site), Justin Karunguru, Mugambi Nthiga and Yafesi Musoke, Jason takes to the stage and does his darndest to crack people's ribs with laughter at his show, Because You Said So – which is now attended regularly by many Nairobians and it is growing by a storm.
What is interesting to me about Jason is that he was always like that. Back in the early 2000s I hang out a great deal with him and other friends of ours who were kind enough to have me around them at a house they shared. Even in those days, Jason kept us laughing almost non-stop through out many evenings until we went to sleep. And yet, he isn't just a jester – he is a pretty serious cookie, I can tell you. He works very hard to do the things that he does and by the time a show has come, he usually has dealt with hundreds of details.
---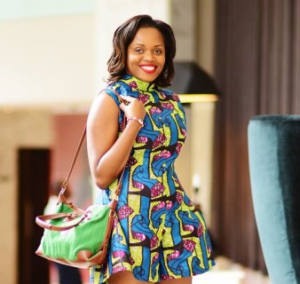 Diana Opoti was once an intern at a company I worked with years ago called Oakland Media. Just out of University, she was always clear about what she wanted to do and what skills she needed to get. I remember frequently how she would muse about Public Relations and how she would use it for unusual purposes – not the way the usual advertising agencies do it. Fast forward 10 years and she has done exactly what she set out to do. With her 100 days of African Fashion, Diana has reframed the fashion discussion on the continent, making African fashion to be more than just ankara and kitenge – earning her distinction globally.
---
These two people's lives impact me greatly. I am reminded by their lives of these important lessons that I continue to learn day by day:
Lesson 11a: Be who you ought to be and start acting like it. You want to be a TV anchor, learn words, how enunciate, how to read out loud, speak well, dress well, and so on.
Lesson 11b: Look for people who will guide you: No idea is utterly new – okay, ideas are fairly knew. Look for people who have been where you want to be then call them out and see what they tell you about their own journeys.
Lesson 11c: You are the master of your destiny. Above all else, be you, do you – not arrogantly or with pride, but with humility. It takes courage to do so.